YULU E10 Radio For Ford Mondeo Fusion 2013-2019 Unit Head 6+64G Carplay Auto Parking TPMS Navigation
Regular price

$1,150.00

Sale price

$799.00
Hurry, only 3 items left in stock!


| | |
| --- | --- |
| Operation System | Android 10.0 Operating System |
| CPU | 8 core 1.8G 64bit SC7862 Intel core |
| RAM+ROM | 6+64G |
| Screen | 12.1'' IPS 1280*800 G+G HD touch-screen |
| Connect | 4G,WIFI,Hotspot,Bluetooth 5.0 |
| CarPlay | Built-in wireless carplay & Wireless android auto & Easyconnection(mirror link) |
| System startup time | Fast start, 3 Sec |
| Voice Control | Supports 13 languages. Control functions including audio, video, screen, A/C, etc. |
| Air Condition Control | Touch control/Voice control/Steering wheel control |
| USB | 2 USB inputs (1 factory input, support USB hub. 1 auxiliary) |
| Touch Tone | SYNC3 sound |
| TPMS Function | The factory tire pressure & tire temperature are fully displayed on the home page and TPMS APP, sound warning. |
| GPS Navigation | Support Google maps, Waze, IGO, Yandex. Navigator etc. |
| Sound | Double DSP module, 32 EQ +OEM EQ, 5V RCA output |
| Microphone | External and build in microphone |
| Camera Input | Support aftermarket front or rear cameras(CVBS/AHD/TVI) |
What is the Manual A/C
A/C is a car climate control, manual A/C is a mechanical knob controlled, automatic A/C is a oem circuit board controlled, the head unit needs to process the data, because manual A/C has built our circuit , Its cost is higher
About the product:

【Applicable models】fot for Ford Fusion & Mondeo 2013-2019 Manual A/C
【Homepage with great features】It integrates 42 items of driving data, status and control icons on the homepage, such as navigation, audio, phone, driving instruments, air conditioning, lighting system, trunk control, steering wheel angle, ADAS, tire pressure, outside temperature, OBD data, etc.
【Retained most factory features than any other brand】Including audio system unit, SYNC1, most of the features of SYNC2/3, such as SiriusXM radio, AM/FM radio, EQ, compass, USB Port, vehicle warning sound, touch tone, rear camera, Parking assist system, massaging seat controls, compass, ambient lighting, Steering Wheel Control, full functions of air conditioning, factory remote start, etc.
【Specific features】Voice control (Added A/C control); Added 13 steering wheel controls; Automatic front camera controls (according to speed & gear); door status stereo display; Added 2 ways to open the trunk; Free 32 colors of central ambient light; remember the off state (Auto Start/Stop); Factory's TPMS displayed and alarm. Locking the car will automatically close the windows, etc. Please see below for general functions.
【Intimate after-sales service】Detailed installation videos and paper wiring diagrams. 7×24 hours after-sales service engineers provide real-time technical support. 30 Days Money Back Guarantee & 1-Year Product Warranty, excluding shipping costs. Our after-sales service center in California. please feel free to contact us if you encounter any problems during the installation.
Special Features:
1. Retained factory audio system unit. If remove it, the sound quality will get worse, the AM/FM channel will be reduced, the signal will become weak, and the Sirius XM radio and piano cue tone will be lost. The parking radar sound and all warning sounds of the car will become very sharp ugly.
2. Support 13 kinds languages of voice control system. Including audio, air conditioning, camera, lighting, setting, truck tailgate, door lock, DVR, etc.
3. 13 control functions have been added to the steering wheel buttons, including the temperature, wind speed and mode of the air conditioner, opening the trunk, voice control, opening the front camera, switching the audio source, changing the color of the ambient light, answering and hanging up the phone, etc.
4. Powerful and complete driving information and control functions are integrated on the home page. Including navigation (Google map, Waze, Yandex Navigator), radio and music play window, telephone window, speedometer, air conditioning, lighting system, trunk controls, ADAS, tire pressure, outside temperature, steering wheel Angle, OBD data, etc.
5. The trunk is easily opened via the touchscreen and a long press on the steering wheel button, and if you have an electric trunk system installed, it can also help you close the trunk.
6. The factory tire pressure & tire temperature are fully displayed on the home page and TPMS APP, sound warning.
7. We have configured 32 colors of ambient lights in the center, if you purchase other ambient lights in other locations, they will be controlled by the screen and steering wheel buttons synchronously.
8. Display the status of all doors in real time with the real model of the car.
9. Support aftermarket front/360 cameras, they are controlled by speed and gear, turning on and off automatically.
10. Locking the car will automatically close the windows. There is no need to long press the key to synchronize with locking the car.
Factory features retained: (if present)
1.AM/FM Radio
2.SYNC1
3.Ford Pass
4.SiriusXM radio
5.USB ports and HUB
6.Factory remote start
7.Heated seat controls
8.Cooled seat controls
9.Factory rear camera
10.Steering wheel heater
11.Manual HVAC controls
12.Automatic HVAC controls
13.Steering wheel controls
14.Massaging seat controls
15.Ambient lighting controls
16.Compass display on driving meter
17.SYNC Touch Tone
18.Factory WIFI/ hotspot
19.SONY audio system (No adapter is required)
General Features:
1. Language: English, German, French, Italian, Spanish, Russian, etc.
2. 3 Sec Fast start. After installation, it will take about 20 seconds to boot at first time, because it needs to match original car information.
3. Built-in wireless Apple CarPlay and Android Auto. Automatic wireless connection, free from cable bondage. Easy Connection (mirror link).
4. AM/FM radio, Sirius XM radio, Bluetooth music, USB music, Video player w/1080P video, Online music/video. You can also download the Android-compatible APP such as Pandora internet radio, Spotify, YouTube music and more into the radio.
5. All functions of the climate can be controlled by touch screen or voice control, which greatly improves driving safety.
6. Support few Internet Carriers [for 4G internet]; Support WiFi/hotspot, at the same, the unit can share internet to other devices.
7. Independent double DSP module, 32 EQ. You can use the preset sound field effect of the system, and adjust the sound according to your preference.
8. Split screen mode displays up and down two interfaces at the same time. e.g., playing video and navigating at the same time.
9. Bluetooth telephone, Support steering wheel controls and voice control.
10. USB DVR /ADAS driver assist. (Lane departure warning, stop-n-go traffic alerts, collision warning) --- Need to be purchased separately.
11. 2 USB inputs (1 factory input, support OEM hub,1 auxiliary)
12. Display factory parking sensors and aftermarket front radar system, up to 12 sensors are supported.
13. GPS navigation support Google Map, Waze, IGO, etc. online/offline.
14. Connect with your phone's WIFI to browser web, download APP from APP list w/Google Play Store.
15. 5 Volt RCA Output.
Important Prompt:
The above are only some of the functions of the product, if you do not see the function you need, please consult our customer service
Tested to fit Ford Mondeo/Fusion 2013-2019, please send us pictures of the centre console and steering wheel for more details
Please specify your model, year and auto A/C/manual A/C - auto trans/manual trans in your order
7 days return support and 1 year warranty (return shipping costs to be covered by buyer)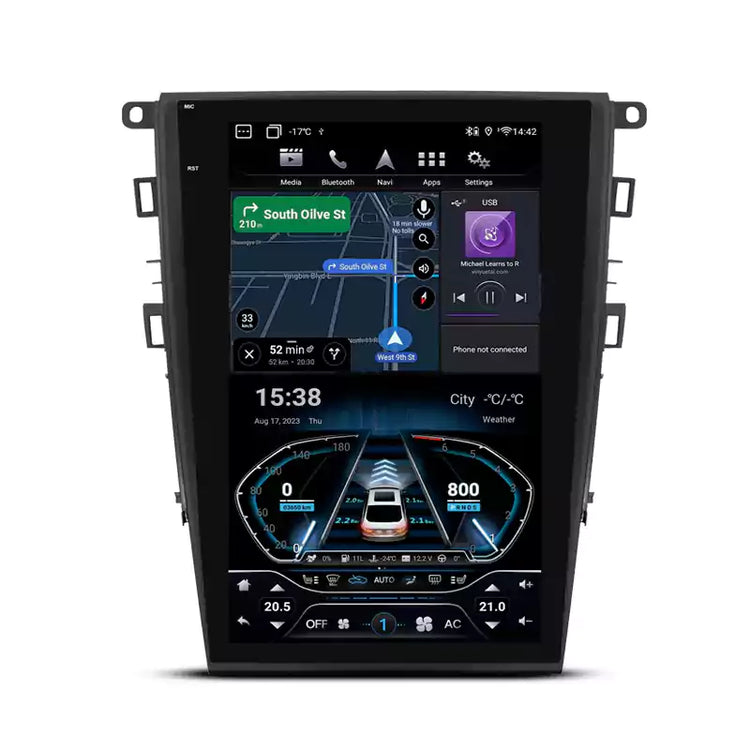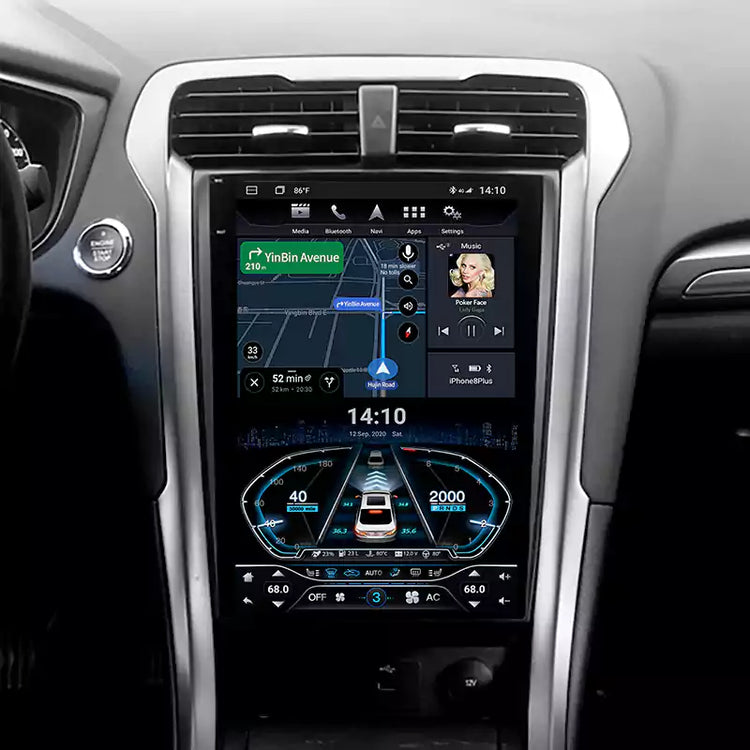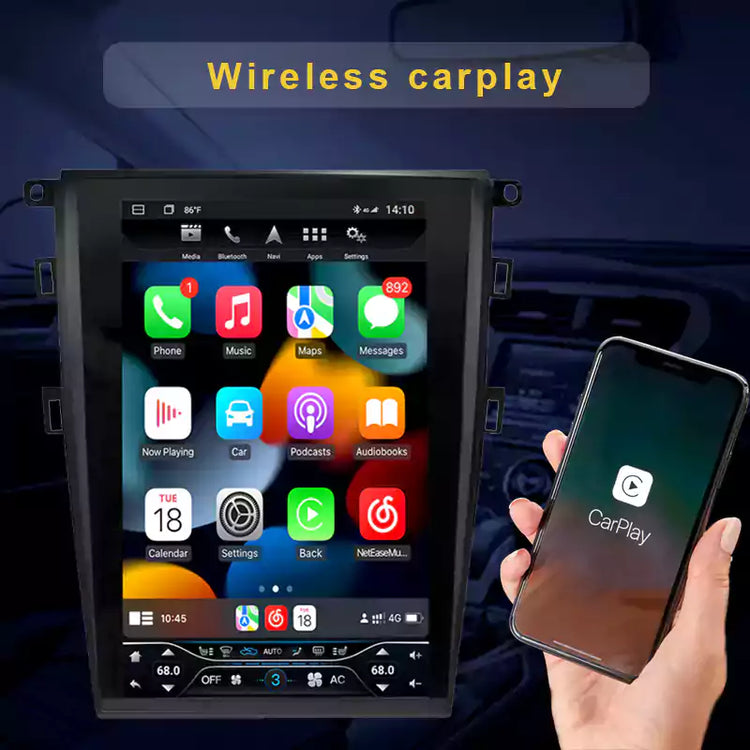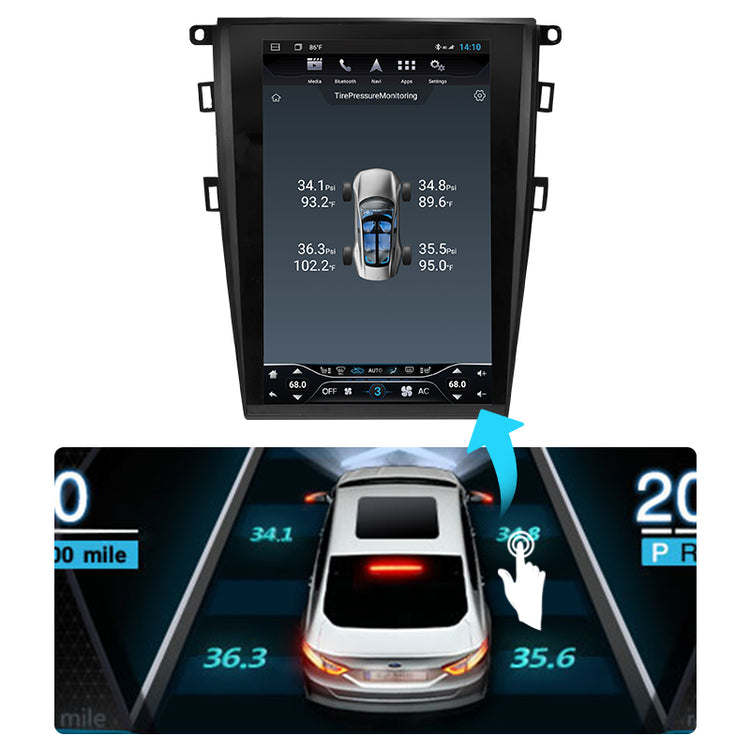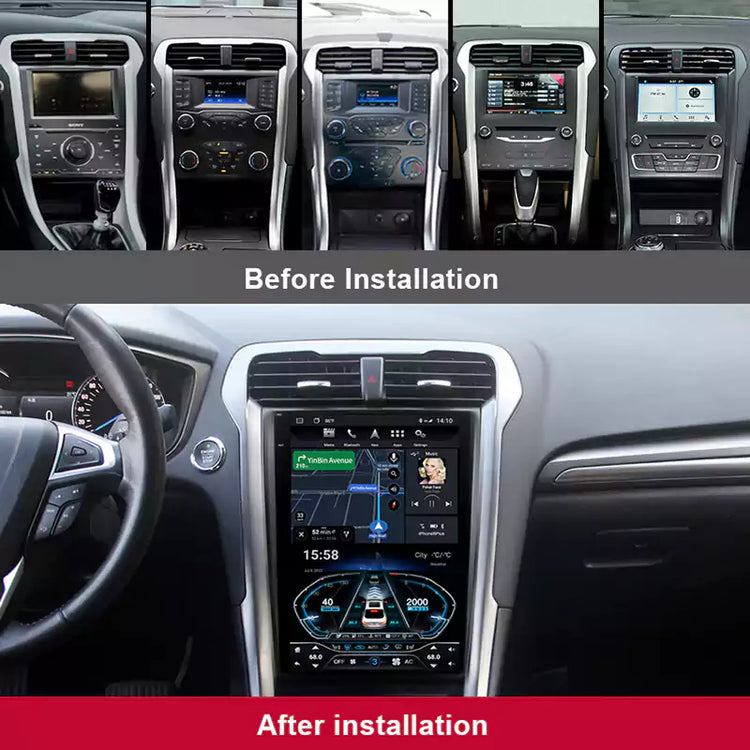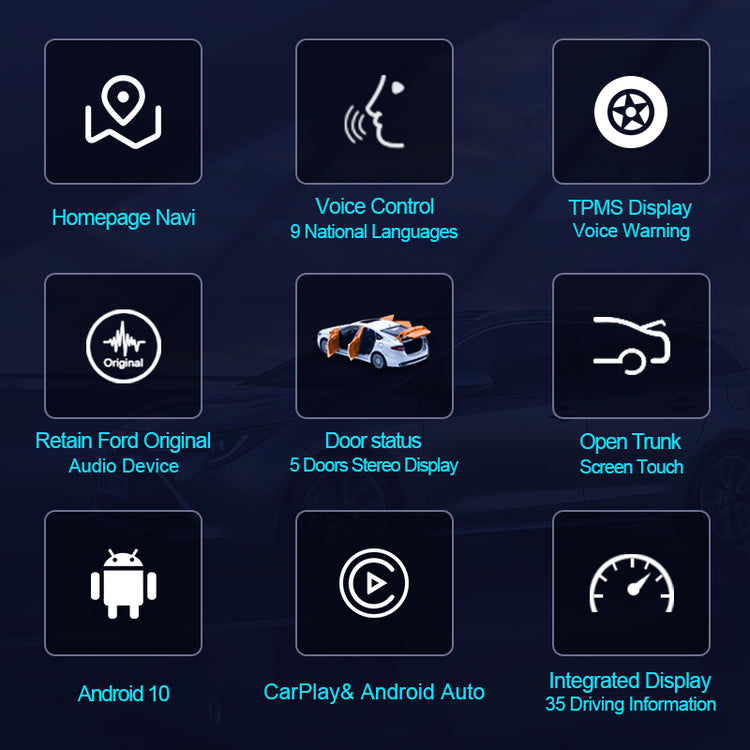 BEFORE&AFTER
Before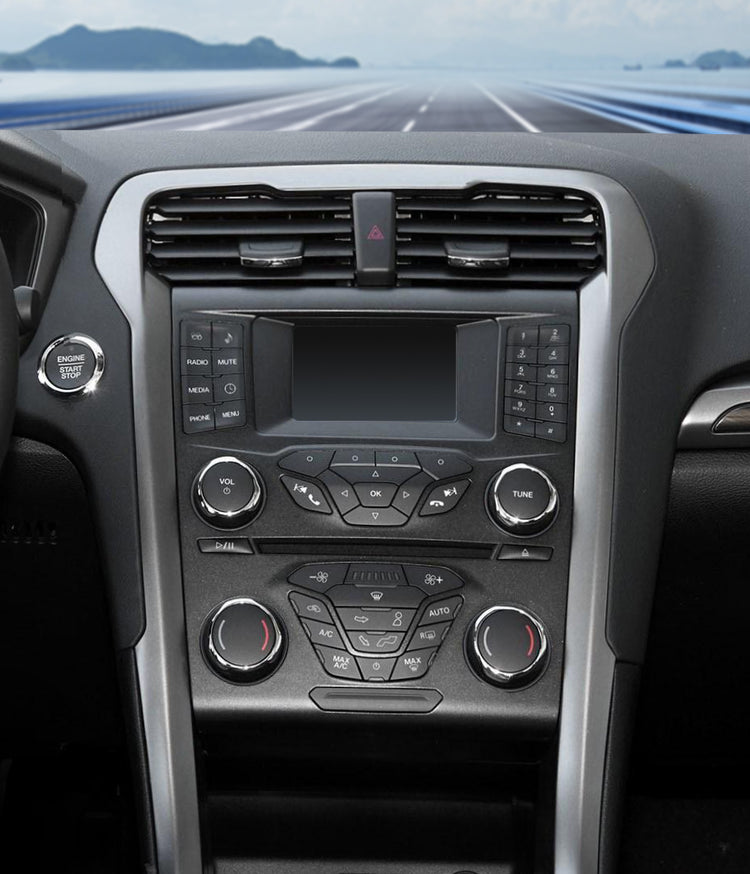 After